A website for a Kitchen Cabinet provider company!
The company, Nailed it II LLC, started as a small business and has grown steadily for 8 years. Owned and operated by David and Lisamarie, the store is located in Penndel, PA. Lisamarie manages the store while also working as a full-time health and PE teacher. They take pride in providing excellent customer service and treating their clients like family. With a passion for creating user-friendly interfaces, I enjoyed crafting this website to showcase their unique journey and services. If you're looking for top-quality kitchen cabinets and personalized attention, they are the team to work with!
The project aimed to build a user-friendly website for a kitchen cabinet provider company. Their goal was to showcase various products, including kitchen cabinets, countertops, vanities, and vanity tops, each having dedicated pages. They strategically placed lead capturing forms across the site to generate leads effectively. Additionally, a dedicated page showcased their completed projects, fostering engagement and building connections with visitors.
We successfully build this clean, modern, and easy-to-use website. All the features and all the necessary pages were perfectly built on the website.  And the client was so happy to see the final result. 
This is their kitchen Cabinet page where all the Kitchen Cabinet are located. Each Cabinet section has a unique contact form.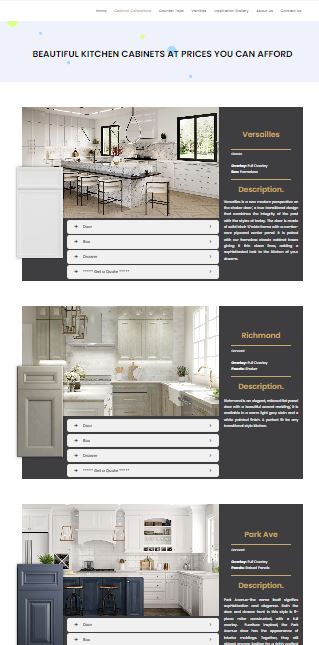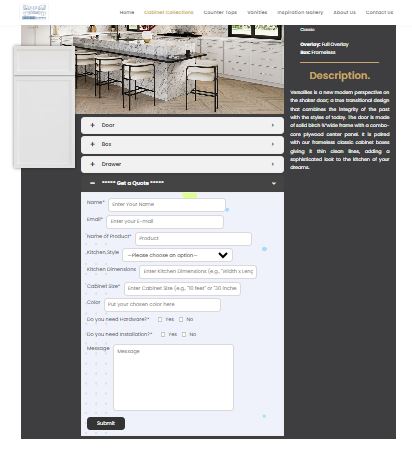 Contact Form of Each Cabinet Section Page
This is the contact form designated for each section of cabinets on the Kitchen Cabinet page. Each cabinet section is equipped with this form, allowing customers to conveniently get in touch regarding a particular product.
This page showcases beautifully adorned countertop designs. It features two tabs: one for Quartz and another for Granite. When you select the Quartz tab, all Quartz countertop options become visible, and the same applies to the Granite tab. Each product comes with its own distinct contact form popup.
Contact Form Featuring a Popup For Every Countertop
This is the pop-up viewer that users will encounter when they click on any countertop products from the countertop page.
Want to start a project with us?
We are here to support you and your business with our attention to details, and budget friendly pricing.  Come see what Ward Media Services can offer you.